| | |
| --- | --- |
| | Scripture Scholar |



Scripture Scholar is a unique Bible study software tool. It can be used by Sunday School teachers, home schoolers, pastors and professors to create multiple choice and fill in the blank quizzes. These quizzes can be printed and handed out in a traditional classroom testing environment. Or Scripture Scholar can be used as an interactive tutor - testing your knowledge of the Bible and grading your answers immediately on-screen - where interesting facts are presented as questions in a quiz-like environment, and users are prompted for the correct answers.

How do you create a new quiz? Here is where you would enter your new questions for each quiz you create: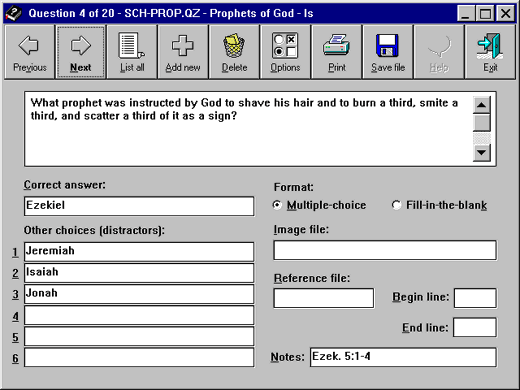 You can create multiple-choice and fill-in-the-blank style quizzes easily. When you are ready to print your quizzes, the print preview screen will show you what your quiz will look like on paper: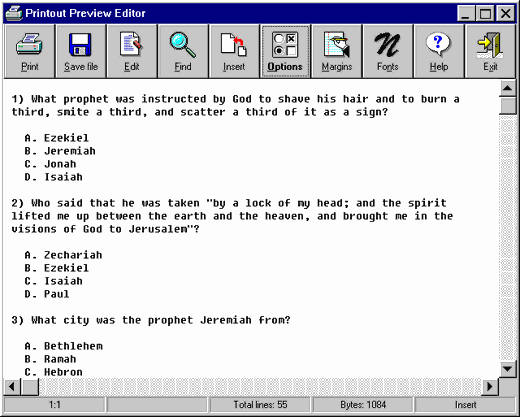 Scripture Scholar offers a unique and enjoyable method of learning more about your Bible. Rather than simply reading specific lesson materials, this program allows you to learn a variety of Bible facts through a series of thought provoking questions. With over 3000 questions already provided for you, you may start by selecting your general area of inquiry. Here you're offered subject matter that is grouped into 27 different categories from both the Old and New Testaments. Typical question topics include: Word Meanings, The Prophets, Books of the Bible, Geography of the Bible, Elijah versus Elisha, Acts and Journeys of the Apostles, Letters (Epistles) to the Churches and Believers, and many more.
The program presents the information as a series of multiple choice questions or short fill-in-the-blank type responses. Although some of the questions might prove difficult for some novices, most questions are very reasonable and quite thought provoking. All you need to do to play the game is select, or enter, the correct response to each question. Both correct and incorrect answers are acknowledged by the program and Scripture Scholar tracks your scores for each session. Once you've selected an answer, in addition to telling you whether your response is correct, the program also displays the Bible chapter and verse where you can find the answer.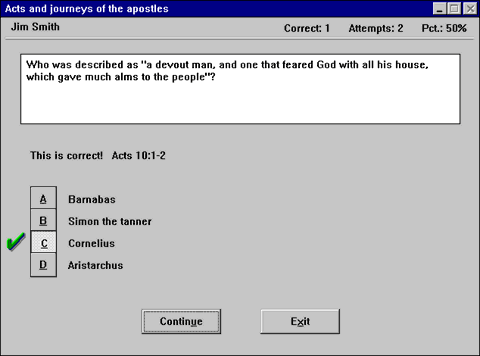 (Screen snapshot example)
Scripture Scholar is well suited for all members of the family. The results of each session are stored along with the player's name. These results can be displayed in a variety of forms, including: Date, Number of Correct Answers, Percentage of Correct Answers, or Time Elapsed. You can sort or reorder the Score history table by simply clicking on the appropriate radio button at the bottom of the window. These results can be viewed on screen or sent to your printer for a more permanent record. The program automatically stores the results of the last 255 game sessions.
A great way to increase your knowledge of the Bible.

Hardware and software requirements:
Scripture Scholar requires a personal computer using the Microsoft Windows operating system.

Download an evaluation copy of this program:
To download an evaluation copy of the Scripture Scholar software program that you can use on your own PC computer, click on the "Download now" link below: