| | |
| --- | --- |
| | Sheet Music Designer |
Sheet Music Designer is a software program that prints blank staff sheet music paper.
With this program you can print treble and bass staves, along with guitar tablature. You have the ability to adjust left and right margins, line thickness, and closing brackets.
The ability to print multiple sheets is supported.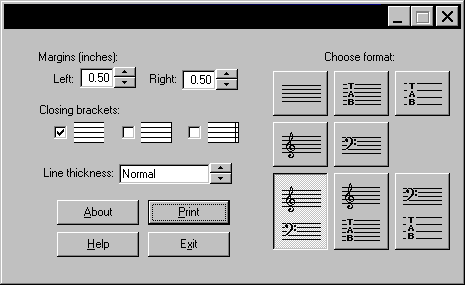 (snapshot of actual program interface)

Sheet Music Designer can print several varieties of blank manuscript paper for transcribing and composing music with pencil and paper. Choose from three different line thicknesses, single or grand staff style with individual lines or combinations of treble, bass, or guitar "Tab" clefs. You can also specify line closings and the left and right margins of the output. Sheet Music Designer is an intuitive, basic program that can produce quality blank music paper for musicians.

Sheet Music Designer is a handy software tool for composers, musicians and music teachers!

What others are saying about Sheet Music Designer:
"I just downloaded Sheet Music Designer and really love it..." (Jerry K.)
"My hat's off to you for a job well done." (Mark)
"It's certainly a worthwhile expense, since a book of blank music sheets costs almost as much as buying the program. I think it's a great little program, extremely useful. I'm glad you made it!" (Janet B.)
"Just wanted to say thanks for posting the sheet music program. My 12 year old daughter began piano lessons last summer and is now composing her first song." (Eric R.)
"I have told my musician friends about it also. It will pay for itself in savings on buying blank sheet music paper at the store." (David H.)
"Love the programme... My kid is a music student, so this programme will save us money." (Susan T.)
"This is a great little program. No more unreadable hand-drawn bass and guitar tab for me!" (Glenn)

Hardware and software requirements:
Sheet Music Designer will run on any PC using any version of Microsoft Windows.
Note: This software is NOT a music composition program. Sheet Music Designer does NOT allow you to compose music on your computer, or place notes on the blank sheets on your computer. Our software simply prints BLANK staff sheets for use with pencil and ink.

Download an evaluation copy of this program:
To download an evaluation copy of the Sheet Music Designer software program that you can use on your own PC computer, click on the "Download now" link below: