What's the six letter word for the name of a Christian prophet who forewarned of a great famine in the days of Paul?

What's a four letter word by which the city of Jerusalem has been known by?

Features include: Answer peek; Save your work to disk for later retrieval; Help screens.

A fun way to increase your knowledge of the Bible! Dozens of puzzles available for your learning enjoyment.

What others are saying about Bible Crossword Puzzles:
"...loved your program, quite challenging. Thanks!" (Dennis B., Seatac, Washington)
"I just finished my first puzzle and I thought it was an exciting and fun way to study the Bible." (Thomas K.)

Hardware and software requirements:
Bible Crossword Puzzles requires a personal computer using MS-DOS or Windows 3.x or Windows 95/98.

Download an evaluation copy of this program:
To download an evaluation copy of the Bible Crossword Puzzles software program that you can use on your own PC computer, click on the animated diskette image below: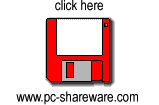 Educational Software | Productivity Software | Inspirational Software
Main Menu | Purchasing | Contact us

Copyright © 1997 PC Shareware, Inc.. All rights reserved